Maharaja Whiteline MX-147 vs Havells Marathon
Maharaja Whiteline MX-147 vs Havells Marathon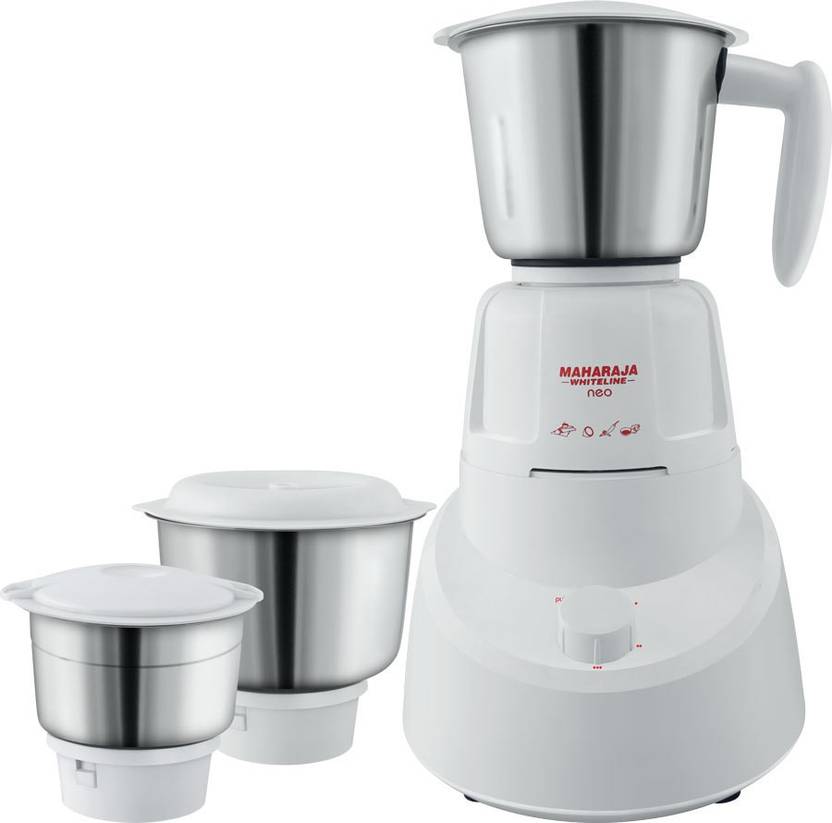 500 Watts powerful motor, durable stainless steel jars, super sharp blades, 3 versatile attatchments, 1 year warranty
This device has 550 w powerful motor. It comes with Stainless steel jar and Super sharp blades. It has Complete White Colour. This device has Non Slip Feet and 1 Year Warranty.
1L Liquidizer Jar
0.7L Multi Purpose Jar
0.3L Chutney Jar
Number of Jars 3
Rust proof plastic body, anti-skid feet, dry grinding feature, auto-shut off for overload protection
Havells Marathon 750 Watt White Mixer Grinder is featured with 3 speed control and pulse function. It has 3 hygienic stainless steel jars with hard chrome blades. It has liquidizing jar 1.5 L, Dry- wet grinding jar 1.0 L, Chutney Jar 0.5 L and Vaccum feet for stability. Havells Marathon White Mixer Grinder also has ABS body and jar handles, ABS dome lock lids for extra safety, Flow breakers in jars for better performance, Built in over load protector for motor safety and Brake resistant poly carbonate jar dome cover and lid.
750 watt heavy duty copper motor
3 hygienic stainless steel jars with hard chrome blades
- Liquidizing jar 1.5 L
- Dry/ wet grinding jar 1.0 L
- Chutney Jar 0.5 L
Vaccum feet for stability
ABS body and jar handles
3 speed control with pulse function
POM dome lock for extra safety
Flow breakers in jars for better performance
Built in over load protector for motor safety
Break resistant poly carbonate jar dome cover & lid
Marathon White : Marathon 750W / GHFMGAFW075
Marathon White : Grinder, Juicer, Mixer
Marathon White : 3 Speed Setting
MX-147 : 1 Year Product Warranty, 2 year Warranty Motor
Marathon White : 2 years on mixer and 5 years on motor
Body Material - Main Unit
Marathon White : Stainless Steel
MX-147 : Stainless Steel Blade
---